Events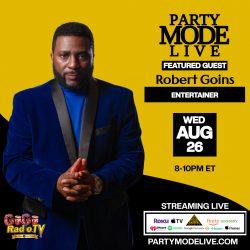 Robert Goins appears on Party Mode Live August 26, 2023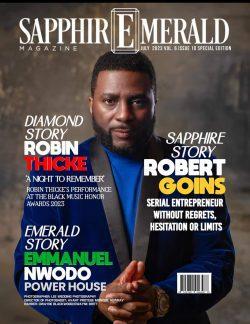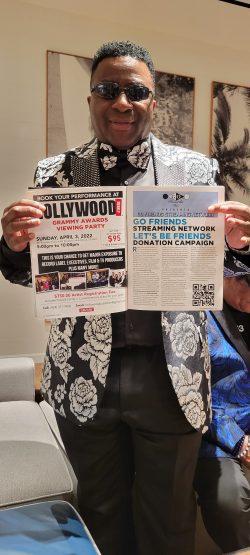 The Larry Davis Story is a movie that will go into production in 2023 – and written by and produced by the person who knew him best – Robert Goins. This is a story that must be told with a soundtrack, featuring songs like "Party Rap" and "Take Notes" sure to go to the top of the charts. The movie will be shot in the NYC area so become a member of Gorecordsinc.com by going to the MEMBERSHIP FAN CLUB PAGE and get first dibs on potential roles, tickets to the movie and concerts featuring performers from the soundtrack.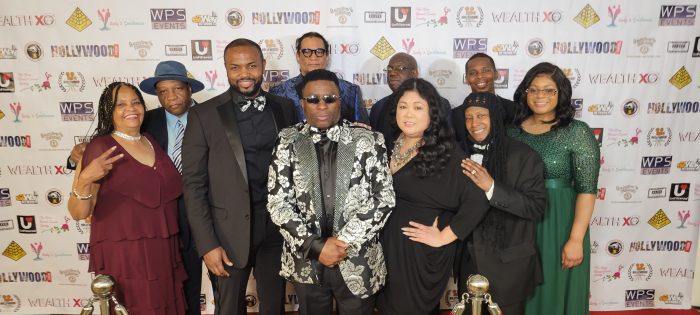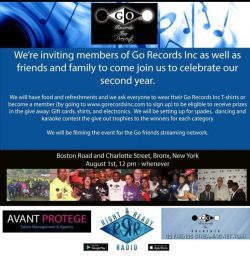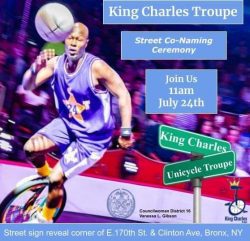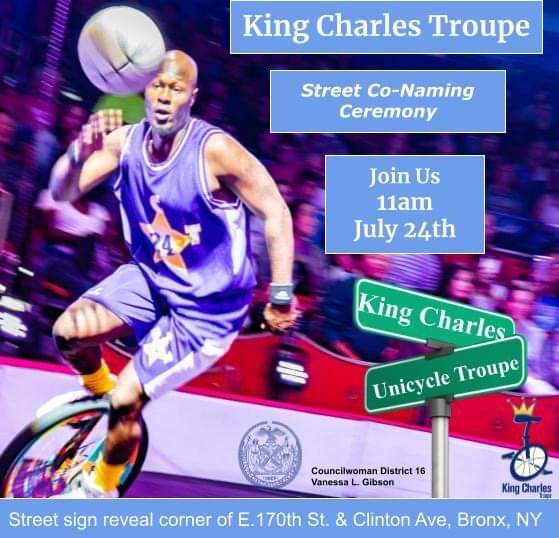 February 1, 2021
GO Friends Streaming Network is new! We are not Netflix or Disney. We are about the talent that has not been discovered yet. The individual, or group, that wants an opportunity to showcase their abilities. That is why there are no monthly or yearly fees for anyone in the world to come visit the GO Friends Streaming Network.
Robert Goins knows how to produce entertaining shows that will feature those individuals who send us their videos. Whether they be music videos (from rap, R&B, pop, country, gospel or other), to comedy routines, and other talent you might want to showcase (from wanna-be models to painters and more).
Those shows are being designed and produced as we speak. In the meantime, we will upload interesting productions from Black Heritage Films, and other productions to movies and TV shows that we are currently working on.
If you want to send us your video – or find out other benefits of becoming a member and friend – CLICK ON TO "MEMBERS FAN CLUB"
This contest is now officially over. Thank you for you participation. The official winner is Tracy Brown from Pennsylvania. Congratulations!
Go Records Inc is looking for our customers to participate in this survey for our t-shirts. We are asking all our customers that purchased Bruce Angel's Challenge T-shirt or Go Records Inc Vintage T-shirt to take a picture of yourself wearing the shirt and post it on Instagram and #gorecordsinc. Singers or rappers may attach a 30 second jingle to the photo singing, rapping or talking about the shirt. This survey was designed to let us know which shirt our customers like best. The post with the most likes at the end will be the winner. The contest begins July 24, 2020 and ends September 24, 2020. The winner will be notified thru their Instagram account.
---
The winner will receive either 6 of the Challenge T-shirts or 6 Vintage T-shirts in colors of their choice available on our website(all shirts must be the same size), a $100 Visa gift card, and certificate.
---
If you are the winner with a jingle, if we like the jingle, you may be signed on for a contract for that jingle to appear in our commercials.
---
On August 2, 2020 Go Records Inc, Right N Ready Radio and Avant Protege are having a family and friends day in Cortona Park located in the South Bronx, New York City at 2PM EST. Food and beverages will be provided for our members. There will be live giveaways for our members, you must be present to receive these gifts.
---
Mr. Robert Goins was inducted into The Circus Ring of Fame, Class of 2020. January 12, 2020, St. Armands Circle, Sarasota, Florida for his achievements with The King Charles Troupe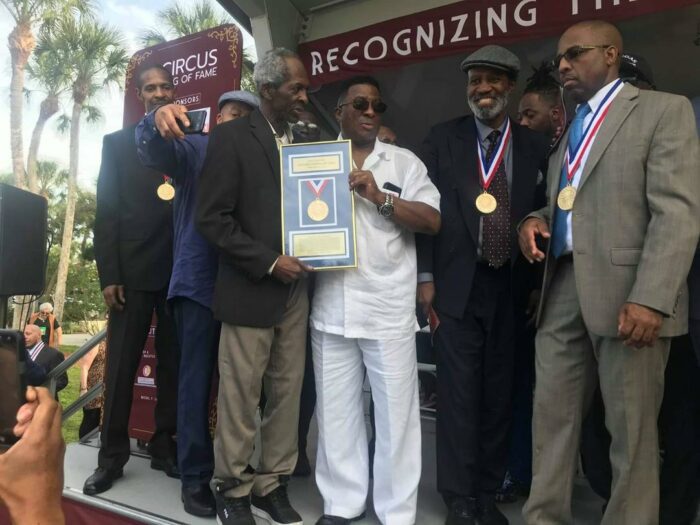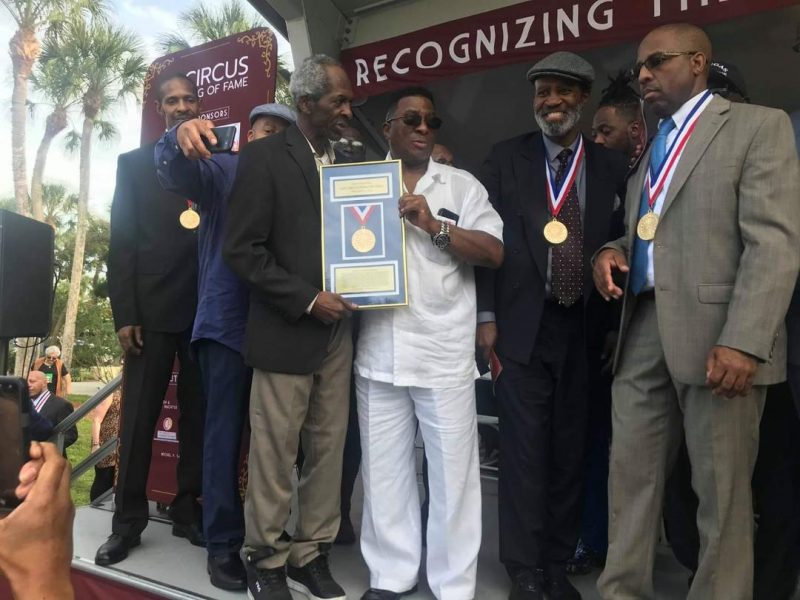 On April 14, 2015, our CEO/President Mr. Robert Goins was awarded a plaque from Covington Who's Who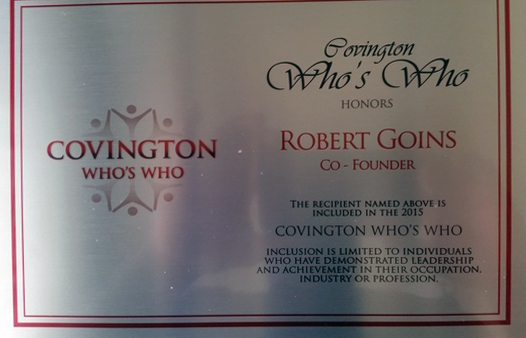 ---
On December 15, 2014, Go Records Inc received two Silver A&R awards from the Beat 100 for song and video for Kollabo's "Gettin Money"
Performances & Appearances
Go Friends Streaming Network is shooting its first commercial December 10, 2021 called Let's Be Friends campaign to raise funds for India and Africa which will be aired in 2022 on ABC New York, Philadelphia, Chicago and California.
GO Records Inc. will be hosting our 2nd Annual Family and Friends Day, August 1, 2021, Crotona Park, Boston Road and Charlotte Street Entrance Bronx, NY 10457, 12pm EST Until
On July 24th 2021, 11am Est, The King Charles Troupe was honored with a Street Naming ceremony in Bronx, New York on the corner of 170st street and Clinton Avenue.
Go Records Inc and the cast of Conflicted appeared at the Talent Extravaganza presented by Future Star Productions, Synergi, and Caudwell Enrichment on February 28, 2020, 5pm – 7pm, P.S.186, 750 Jennings Street, Bronx, NY
Mr. Robert Goins was inducted into The Circus Ring of Fame, Class of 2020. January 12, 2020, St. Armands Circle, Sarasota, Florida
Stop The Violence Youth Tour at the Magic Johnson Theater at 2309 Frederick Douglass Blvd, New York, NY on June 18th from 12pm – 6pm EST
Go Records Inc held an event with Avant Protégé, a fashion show and various artists performing at world famous Rucker Park 155th street Frederick Douglass Blvd, New York, NY, June 10, 2019 – August 8, 2019
South East Peace Parade, 160th street and Tuskegee Airmen way Jamaica NY 11434, August 18, 2018 2pm – 5pm
The Stitch Bar & Lounge(performances and celebrity appearances)- 247 W. 37th Street, New York, NY 10018 August 11, 2018 7pm – 4am
The Dungeon 2127 Gillingham Street, Philadelphia, PA, June 11th 2016.9am – 2pm
Club Remix, 27 Park Pl #1, New York, NY 10007 April 23, 2016
Funkmaster Flex Franchise Record Pool March 19 2016
Video Shoot of "Going In", Philadelphia, Pennsylvania March 5, 2016
Holland House, 276 5th Avenue Corner 30 Street, New York, NY February 24, 2016
East Orange Summer Jam, Elmswood Park, East Island, NJ September 5, 2015
Councilman and Mayor for Friends Day, Valisburg Park, South Orange NJ, September 5, 2015
Raising Money for Autism, B.B King Blues Club & Grill 237 W 42nd St, New York, NY. August 22, 2015
Big Scott's All White Celebrity Affair, Campbell Field, Camden, NJ, July 18, 2015
Kollabo's Mixtape Party Single Release and DJ Meet n' Greet, Raine Lounge, Bronx, NY, July 9.2015
East Lounge, Cherry Hill, NJ, June 20, 2015
Betsy Head Park on 167 Livonia Ave, Brooklyn, NY 11212, June 12th, 2015 at 7:30 PM
Guns Down Life Up Event with Larchmont Battle League, Sho-time TV and Cokeboys at Rocky's Bar and Grill, 460 West 34th Street, New York, NY, on May 22nd at 7:00pm
Celebrity Basketball, JFK High School, Willingboro, NJ, April 18th. 2015
Beat Street Reunion, B.B King Blues Club & Grill 237 W 42nd St, New York, NY April 11th, 2015
Platinum Sound Studio, 5th Floor, 320 West 46th Street Manhattan, NY January 19,2015
The Inn at Poconos Manor, Poconos, Pa, March 28-30, 2014
The Fund for HHC/Guns Down Life Up, Brooklyn, NY, January 20, 2014
Speaking and performing to three high schools. Meriden, Connecticut, June 14, 2013
Gold Oscar Black, 50 Union Pl, Hartford, June 9, 2013
The Studio at Webster Hall, New York, NY, June 5, 2013
Tacony Billiards, 100.3FM. The Beat, Radio, Ben Salem, PA Dec 18, 2010
The Philadelphia Arean. Dec 17th, 2010
Tacony Billiards, Ben Salem, PA Nov 12, 2010
Sister Sledge, Cathy Sledge's Mansion Part, PA Aug 28, 2010
The Robert Goins Show: RockMeTV.com, Times Square Arts Center Bldg., New York NY, Aug 21, 2010
The Robert Goins Show: RockMeTV.com, Times Square Arts Center Bldg., New York NY, Aug 14, 2010
Pemberton Township High School Charity Fashion Show- Pemberton, NJ Feb 27, 2010
The Robert Goins Show: RockMeTV.com, Times Square Arts Center Bldg., New York NY, Dec 10. 2009
The Robert Goins Show: RockMeTV.com, Times Square Arts Center Bldg., New York NY, Dec 3, 2009
The Robert Goins Show: RockMeTV.com, Times Square Arts Center Bldg., New York NY, Nov 27, 2009
The Robert Goins Show: RockMeTV.com, Times Square Arts Center Bldg., New York NY, Nov 19, 2009
Lux Lounge- Philadelphia, PA Nov 12, 2009
Octo Club- Philadelphia, PA Sep 19, 2009
Gun Hill BID Festival- Bronx, NY Sept 18, 2009
The Afrika House- Brooklyn, NY Sept 11, 2009
Art's Garage- Philadelphia, PA Jul 24, 2009
The Fuzion Club- Philadelphia, PA Jul 17, 2009
TLA, Live Nation, The Ryan Banks Show- Philadelphia, PA, Jul, 10, 2009
New Lisbon Developmental Center-State of New Jersey, New Libson, NJ Jun 5,2009
NYCHE Lounge – Bronx, NY Mar 20, 2009
Times Square Arts Center bldg. 5th Ave, New York, NY, Feb 12, 2009
Fashion Show- Boston, MA. Jan 16, 2009
Football Classic, Java Walkies- Boston, MA. Jan 9, 2009
The Ron Alexander TV Show- Kraine Theater, New York, NY, Nov 8, 2008
88.3 FM Radio(Spotlight) – Delaware, Feb 21, 2008
For more info on the Stay in School Program, click here